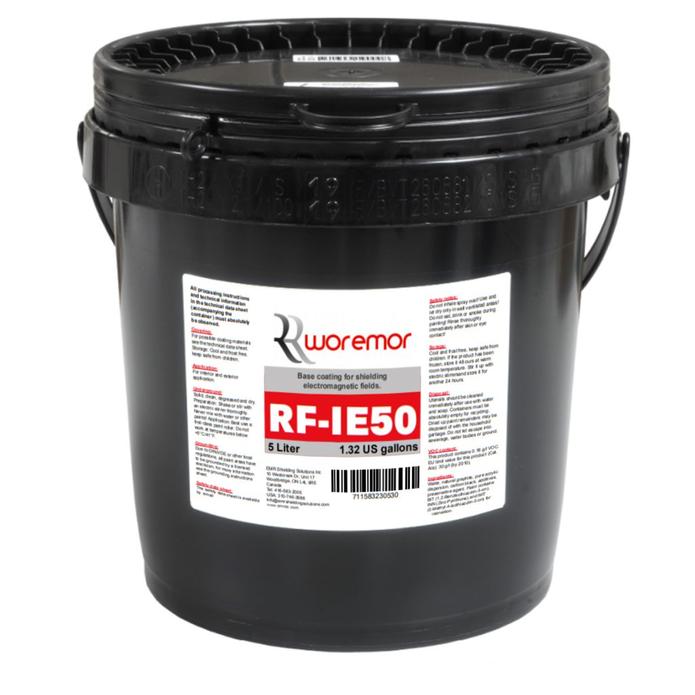 WOREMOR RF-IE50 - EMR Shielding Paint 5L (Internal/External use)
Product Description
Our highly efficient shielding paint for the protection against high-frequency radiation and low frequency electric fields and RF/Microwave radiation. It is highly breathable with very low VOC content. Exterior AND Interior application on walls, ceiling and floors. Pure silicate paint based on potassium silicate. It does not contain toxic solvents, plasticizers, or any other toxic ingredients. Applied as a primer coat. Preferably covered with plastic bonded, water-based emulsion paints, facade paints or silicon resin paints. The paint offers almost constant attenuation, without preferred direction of polarization, for frequencies of up to 18 GHz. This means: perfect protection against future developments of the telecommunications industry in the higher Gigahertz range is guaranteed. Color: Black. Coverage: 1 Liter 7.5 sq. Meters (81 sq. Feet).
WOREMOR RF-IE50 EMR Shielding Paint Features 
High water resistance and environmentally friendly.
Shielding attenuation: Attenuation of 36 dB (shielding effectiveness of 99.98 %) in one layer, attenuation of 43 dB (shielding effectiveness of 99.995 %) with two layers.
Perfect corrosion resistance: does not contain metalic particles, no oxidizing, provides long term durability.
Ingredients: Water, pure acrylic binder, graphite, carbon black, additives, preservatives.
DUE TO NEW REGULATIONS ALL PAINT MUST BE GROUNDED
(Click here for our grounding products)