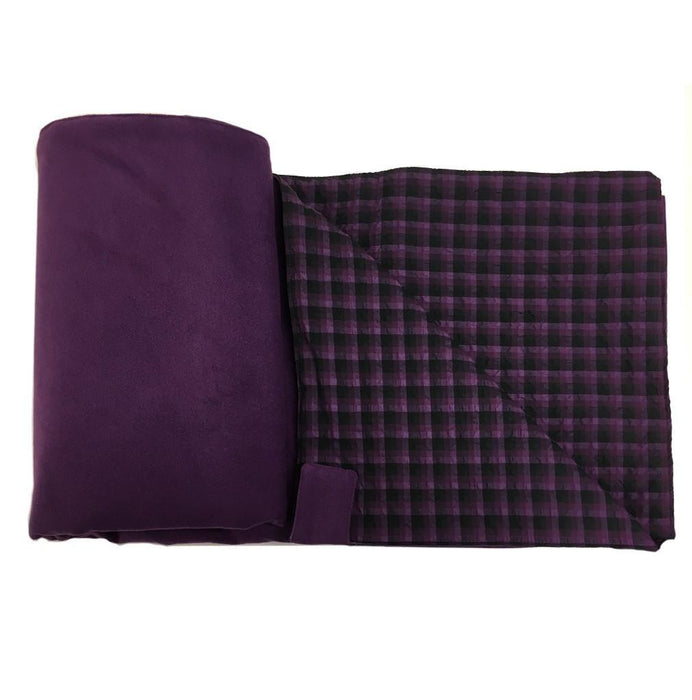 WOREMOR Purple EMF Protection Blanket For HF & LF With Grounding Kit
Product Description
We are exposed to many different sources of EMR (electromagnetic radiation) in our day to day lives, such as cell phones, tablets, computers, cell towers, smart meters, power lines or WiFi signals. Although this radiation is invisible, tasteless, and odorless, it can nonetheless have serious health consequences with frequent and continuous exposure. Numerous scientific studies have linked overexposure to EMR to sterility in men, damage to fetuses in pregnant women, and the development of various cancers.
This shielding blanket is made in Canada, with materials designed to protect you from absorbing this harmful radiation. We chose the colour purple since it's said to promote harmony of the mind and the emotions, contributing to mental balance and stability. Purple and violet also support the practice of meditation. 
One side is made of thick fleece, and the other is made of soft cotton with a plaid pattern. The inside is lined with tightly woven shielding fabric that contains steel threads, with an average attenuation of 35dB.
The blanket has two ground connecting points, where you can attach a grounding kit. With it connected and plugged into the wall, you are shielded from low frequency alternating electrical fields. Without the grounding the blanket will shield you from high frequency radiation (HF).
Size: 80 inches * 57 inches (203 cm * 145 cm)
Specifications shielding fabric:
35dB average attenuation 

Raw materials: 40 % cotton, 30 % polyester, 30 % stainless steel

Weight: 120 g/m²

Dimension stability: +/- 3 %

Surface conductivity: 100-800 ohm (square resistance)

Tested and made in Canada
Fabric care: Washing at gentle cycle 30°C | Ironing without steam at degree 1 | No drying in tumble dryers | No bleaching | No chemical dry-cleaning |