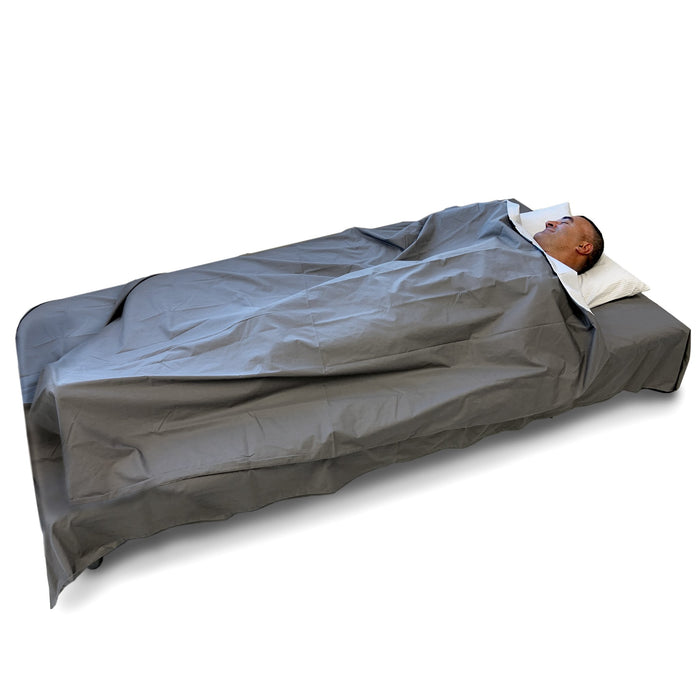 WOREMOR HF / Shielding bedding from Steel-Gray TBL
The bedding set includes a sheet and a duvet cover. The sheet is made of Steel-Gray and can be covered with a common sheet if needed. The duvet cover is sewn two-sided: With the Steel-Gray side (gray fabric) used downwards for a better shielding, as the shielding fabrics will lay on top of each other. With the cotton fabric side (white fabric) used downwards with a decreased shielding but less scratchy. The set is not including a pillow case.
Steel-Gray is a compact cotton/polyester/stainless-steel fabric for HF+LF shielding. The stainless steel threads makes the material extremely durable and stable (more so than shielding fabrics containing silver). Steel threads aren't very soft on the skin, and can feel similar to a scratchy wool sweater. So sleeping wearing pajamas is recommended. 
Technical data
Double Bed Measurements
Size sheet: 240 cm x 140 cm (94" x 55")
Size duvet cover: 200 cm x 135 cm (79" x 53")

Queen Bed Measurements
Size sheet: 259 cm x 229 cm (102" x 90")
Size duvet cover: 229 cm x 229 cm (90" x 90")
King Bed
Size sheet: 274 cm x 259 cm (108" x 102")
Size duvet cover: 264 cm x 229 cm (104" x 90")
Attenuation: 35 dB
Colors: Gray, white
Raw materials: 40 % cotton, 30 % polyester, 30 % stainless steel
Surface conductivity: 100-800 ohm (square resistance)
Grounding
To shield low-frequency electrical fields this bedding could be grounded. You need: 2 x GS, 1 x GP, 1 x GC100, 1x GC500. Because of the cables in your bed, a grounding is not advised.
Shielding attenuation
The above-mentioned screening attenuation values always apply to 1Ghz. The screening attenuation is regularly tested in our own EMC laboratory, we have measurement setups due to the following standards: ASTM D4935-10, IEEE Std 299-2006, IEEEE Std 1128-1998, ASTM A698/A698M-07