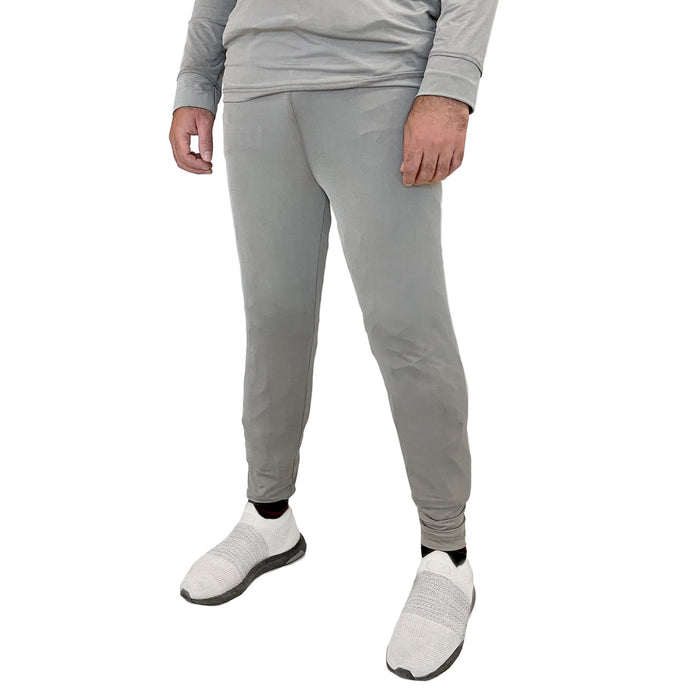 WOREMOR EMF Shielding Long Underpants Silver-Elastic
Product Description
These are Silver long underpants made of Silver-Elastic for protection against Low and High frequency radiation. Silver-Elastic is a very elastic, soft and comfortable fabric which fits each body shape easily, is not visible through outer clothing. It is also electrically conductive on both sides which is why low-frequency fields will connect less and can be conducted away more easily. Many electrosensitive people give priority to fabrics that are groundable! How to wear: To wear as thin sweater or as pajama top in combination with our long underpants TEU. Top-quality individual pieces produced by us, no mass production! Perfect at home, on holiday or on business trips!
These underpants go well with our WOREMOR EMF Shielding Hoodie.
Please note: Silver products have a limited lifetime, depending on the frequency of movement. Silver products will also naturally discolor over time; this is not a quality defect. Our products do not use Nano-Silver technology.
EMF shielding long underpants Features:
Very high washability without attenuation loss.
Sizes: S, M, L, XL, XXL
Attenuation: 50 dB at 1 GHz
Color: Silver
Raw materials: 80 % spandex, 20 % silver
Weight: 130 g/m²
Surface conductivity: 0.5 ohm / inch (square resistance)
Size Guide:
Waist
Small: 80 - 85 cm (31.49 - 33.46 inches)
Medium: 84 - 89 cm (33.07 - 32.67 inches)
Large: 88 - 93 cm (24.80 - 35.04 inches)
Extra Large: 94-99 cm (37.01 - 38.98 inches)
Extra Extra Large: 109 - 114 cm (42.91 - 44.88 inches)
Length
Small: 95cm (37.40 inches)
Medium: 97cm (38.18 inches)
Large: 101cm (39.76 inches)
Extra Large: 107cm (42.12 inches)
Extra Extra Large: 111cm (43.70 inches)