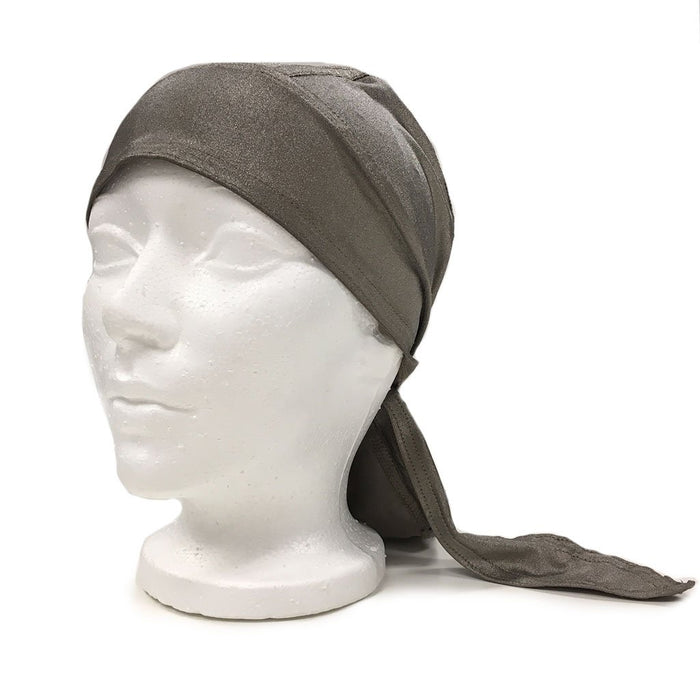 WOREMOR EMF Protection Bandanna
Product Description
This WOREMOR EMF Protection Bandanna is a great modern alternative to the headgear or headscarf. It covers your head and back of the neck, and stays in place thanks to the two straps that ties in the back. The long drape can be tucked inside the collar of your shirt, or be left exposed. We offer this product in two different materials based on your preferences and needs;
Silver-Elastic which is very flexible and perfectly adapts to the shape of your head. Due to the high content of silver, Silver-Elastic is very durable and has an excellent attenuation of 50 dB. This material protects you from both high and low frequency radiation.
Raw materials: 80 % spandex, 20 % silver
Please note: Silver products have a limited lifetime, depending on the frequency of movement. Silver products will also naturally discolour over time; this is not a quality defect. Our products do not use Nano-Silver technology.
Swiss-Shield Wear is a compact cotton fabric for the shielding of high-frequency electromagnetic fields (HF). It has good haptics and an attenuation of 30 dB. 
Raw materials: 90 % cotton, 9.5 % copper, 0.5 % silver
The WOREMOR EMF Protection Bandanna is ideal for travelling in planes, trains, cars and buses. It comes in two sizes; S/M and L/XL, and can be worn by both men and women.
Fabric care: Washing at gentle cycle 30°C | Ironing without steam at degree 1 | No drying in tumble dryers | No bleaching | No chemical dry-cleaning | For allergy sufferers: Every new fabric smells, wash before its first usage!