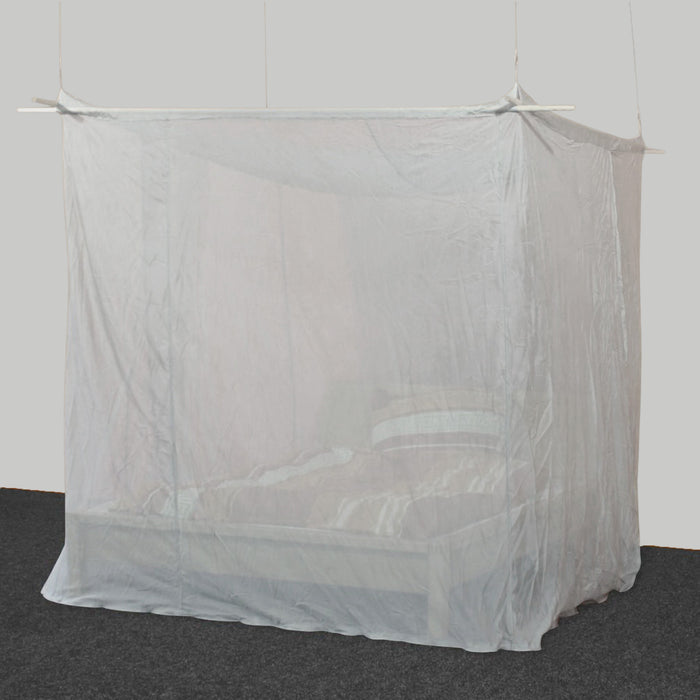 WOREMOR 5G EMF Protection Canopy -STL
This WOREMOR 5G EMF Protection Canopy is made from German high performance STL, and sewn in Canada. It is extremely permeable to air, highly transparent, washable, antiseptic, crease resistant with the highest RF shielding performance (Attenuation 50 dB at 1 GHz). This canopy can be grounded (using the WOREMOR Earthing & Grounding Kit for Fabric) to shield LF electric fields. 
STL has been tested for up to 40 GHz according to standards ASTM D4935-10 or IEEE Std 299-2006.
Canopy size:
Single Bed: 81"L x 45"W x 86"H (206L x 114W x 220H)cm
Double Bed: 81"L x 62"W x 86"H (206L x 157W x 220H)cm
Queen Bed: 86"L x 70"W x 86"H (218L x 177W x 220H)cm
King Bed: 92"L x 82"W x 86"H (234L x 228W x 220H)cm
California King Bed: 92"L x 90"W x 86"H (234L x 208W x 220H)cm

For custom dimensions please call for a quote. 
Attenuation: 50 dB, two-layer 67 dB
Color: Silver-beige.
Raw materials: 80 % nylon, 20 % silver
Weight: 40 g/m²
Dimension stability: +/- 1 %
Surface conductivity: 0.8 ohm / inch (2.54 cm)
Entry: Two overlapping openings.
Mounting: By four points on the ceiling. Any kinds of bars/rods (not included) can be inserted in the sewed fabric tunnel to stabilize the canopy installation.
Included: Canopy, mounting accessories and grounding supplies.
Fabric Care

Washing at gentle cycle 30°C 
No ironing

No tumble drying
No bleaching
No chemical dry-cleaning