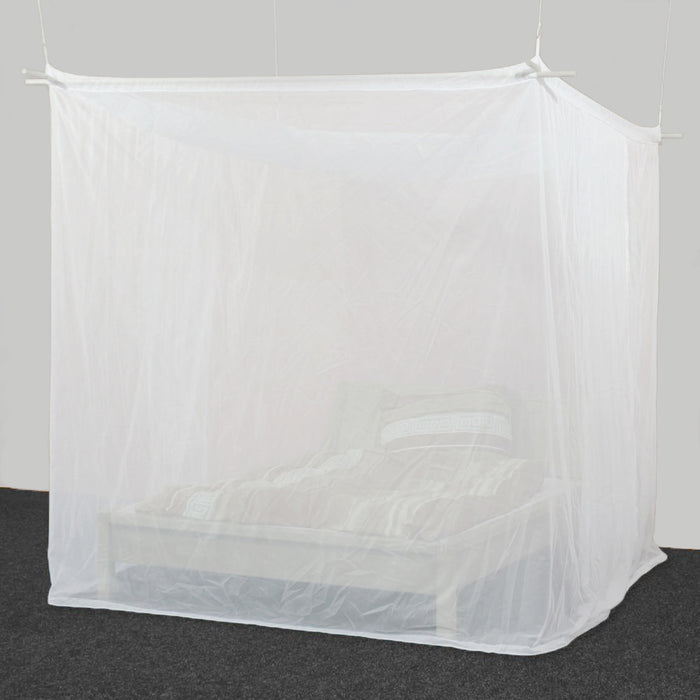 WOREMOR 5G EMF Protection Canopy - New Daylite
This WOREMOR 5G EMF Protection Canopy is made with high grade New Daylite fabric from Swiss-Shield®, and sewn in Canada. New Daylite is a highly-transparent, crease resistant Trevira® fabric for the shielding of high-frequency electromagnetic fields (HF) (Attenuation 25 dB at 1 GHz).
New Daylite has been tested for up to 40 GHz according to standards ASTM D4935-10 or IEEE Std 299-2006 or IEEEE Std 1128-1998 or ASTM A698/A698M-07.

Canopy size:
Single Bed: 81"L x 45"W x 86"H (206L x 114W x 220H)cm
Double Bed: 81"L x 62"W x 86"H (206L x 157W x 220H)cm
Queen Bed: 86"L x 70"W x 86"H (218L x 177W x 220H)cm
King Bed: 92"L x 82"W x 86"H (234L x 228W x 220H)cm
California King Bed: 92"L x 90"W x 86"H (234L x 208W x 220H)cm

For custom dimensions please call for a quote. 
Attenuation: 25 dB, two-layer 34 dB
Color: White.
Raw materials: 78 % polyester (Trevira), 21 % copper, 1 % silver
Weight: 65 g/m²
Dimension stability: +/- 1 %
Entry: Two overlapping openings.
Mounting: By four points on the ceiling. Any kinds of bars/rods (not included) can be inserted in the sewed fabric tunnel to stabilize the canopy installation.
Included: Canopy and mounting accessories.
Fabric Care

Washing at gentle cycle 30°C 
Ironing without steam at degree 1
No drying in tumble dryers
No bleaching
No chemical dry-cleaning 
Please refer to our Refund Policy for the Canopy
The canopies are made by order, so you can expect a lead time of 3-5 business days. before it can be shipped out