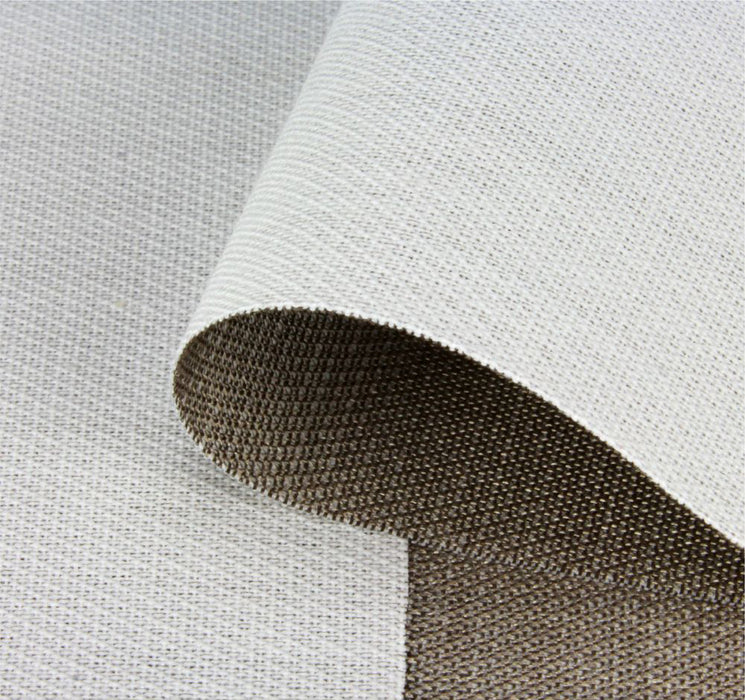 HF+LF - WM-SIT60 EMF Shielding Fabric
*Note: To purchase a custom length of fabric, place an order for multiple quantities of the 1ft option. The amount ordered will be cut as a single piece unless specified otherwise.
WM-SIT60 is a compact cotton/silver fabric for the protection against high-frequency (HF) radiation. Typical application as curtain, to sew clothes, handy bags, etc..
Special feature: The frontside is made of white cotton, while the backside is densely woven with a silver thread. Despite the extremely high attenuation due to the dark silver threads on the backside, this fabric has a light gray frontside!
Maximum high screening attenuation, even at very high frequencies!
Excellent cost/performance ratio
Contactable (groundable) to shield LF electric fields
Textile characteristics: Washable, easy to iron and process
Quality grade: Very high
Order quantity: This product is cut off according to your specifications, a return or revocation are not possible.
Screening attenuation:
All stated attenuation values apply at 1 Ghz. Measurement to ASTM D4935-10 or IEEE Std 299-2006 or IEEEE Std 1128-1998 or ASTM A698/A698M-07. You find the test report above under "Report screening attenuation".
Grounding:
Electrically conductive. Can be contacted and grounded to shield electric fields (LF). We recommend a plug GP or GD, with a plate GM or GS, plus a cable GC.
Fabric care:
Washing at gentle cycle 30°C | Ironing without steam at degree 1 | No drying in tumble dryers | No bleaching | No chemical dry-cleaning | For allergy sufferers: Every new fabric smells, wash before its first usage!
Silver products:
1) Silver fabrics get stainings over time and often have them right from the start! If you don't want to accept stainings or discoloration, please choose fabrics from Swiss-Shield®., 2) Silver fabrics have a limited durability, which depends on the frequency of movement., 3) Our silver fabrics don't contain nano-silver, but a thick pure metallic silver layer.
Fabric quality:
We only sell top quality fabrics! However, due to the high production costs and in favor of a reasonable retail price, tiny defects (e.g. a flaw in weaving) are no reason for complaint. We appreciate your understanding.
Application:
Curtain, Window
Field type:
HF (High frequency electromagnetic fields), LF (Low frequency alternating electrical fields)
Technical data
Width: 150 cm, +/- 2 cm
Length: Available by the foot
Attenuation: 60 dB
Color: Frontside light gray, backside silver. Attention: Due to silver oxidation the front side can have very slight discoloration, this is no quality defect!
Raw materials: 50 % cotton, 35 % polyester, 15 % silver
Weight: 150 g/m²
Dimension stability: +/- 3 %
Surface conductivity: 0.25 ohm / inch (2.54 cm)