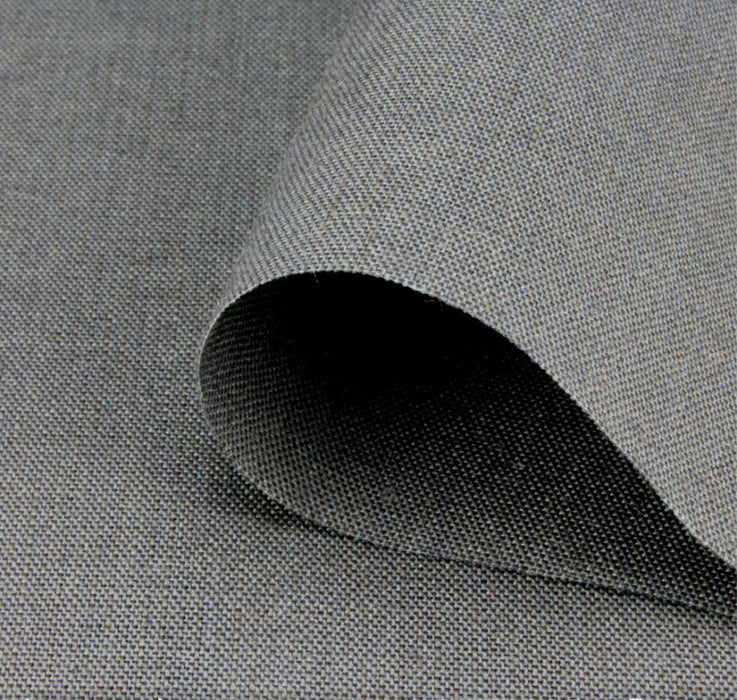 WM-SGM150 EMF Protection Fabric
*Note: To purchase a custom length of fabric, please place an order for multiple quantities of the 1ft option. The amount ordered will be cut as a single piece unless specified otherwise.
WM-SGM150 is a compact cotton/polyester/stainless-steel fabric for HF+LF shielding. Typical application as curtain, floor mat, blanket, to incorporate in furniture (beds), room dividers, or with reservations as low priced clothing or bedding.
Good screening attenuation, even at high frequencies!
Excellent cost/performance ratio
Contactable (groundable) to shield LF electric fields
Textile characteristics: Washable, easy to iron and process
Quality grade: Very high
Technical data
Width: 150 cm, +/- 2 cm
Length: Available by the foot
Attenuation: 42 dB, two-layer 57 dB
Color: Gray
Raw materials: 40 % cotton, 30 % polyester, 30 % stainless steel
Weight: 120 g/m²
Dimension stability: +/- 3 %
Surface conductivity: 100-800 ohm (square resistance)
Order quantity:
This product is cut off according to your specifications, a return or revocation is not possible.
Screening attenuation:
All stated attenuation values apply at 1 Ghz. Measurement to ASTM D4935-10 or IEEE Std 299-2006 or IEEEE Std 1128-1998 or ASTM A698/A698M-07. You find the test report above under "Report screening attenuation".
Grounding:
Electrically conductive. Can be contacted and grounded to shield electric fields (LF). We recommend a plug GP or GD, with a plate GM or GS, plus a cable GC.
Fabric care:
Washing at gentle cycle 30°C | Ironing without steam at degree 1 | No drying in tumble dryers | No bleaching | No chemical dry-cleaning | For allergy sufferers: Every new fabric smells, wash before its first usage!
Fabric quality:
We only sell top quality fabrics! However, due to the high production costs and in favor of a reasonable retail price, tiny defects (e.g. a flaw in weaving) are no reason for complaint. We appreciate your understanding.
Application:
Window, Curtain, Textile products, Earthing
Field type:
HF (High frequency electromagnetic fields), LF (Low frequency alternating electrical fields)