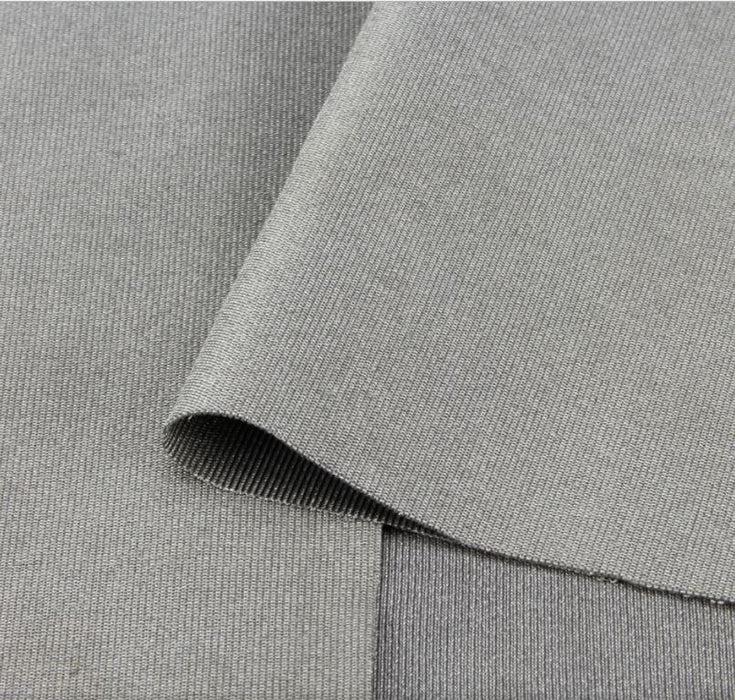 HF+ LF - Silver Elastic Shielding Fabric
Description:
*Note: To purchase a custom length of fabric, place an order for multiple quantities of the 1ft option. The amount ordered will be cut as a single piece unless specified otherwise.
Order quantity: This product is cut off according to your specifications, a return or revocation are not possible.
Screening attenuation:
All stated attenuation values apply at 1 Ghz. Measurement to ASTM D4935-10 or IEEE Std 299-2006 or IEEEE Std 1128-1998 or ASTM A698/A698M-07. You find the test report above under "Report screening attenuation".
Grounding:
Electrically conductive. Can be contacted and grounded to shield electric fields (LF). We recommend a plug GP or GD, with a plate GM or GS, plus a cable GC.
Fabric care:
Washing at gentle cycle 30°C | No ironing | No drying in tumble dryers | No bleaching | No chemical dry-cleaning | For allergy sufferers: Every new fabric smells, wash before its first usage!
Silver products:
1) Silver fabrics get stainings over time and often have them right from the start! If you don't want to accept stainings or discoloration, please choose fabrics from Swiss-Shield®., 2) Silver fabrics have a limited durability, which depends on the frequency of movement., 3) Our silver fabrics don't contain nano-silver, but a thick pure metallic silver layer.
Fabric quality:
We only sell top quality fabrics! However, due to the high production costs and in favor of a reasonable retail price, tiny defects (e.g. a flaw in weaving) are no reason for complaint. We appreciate your understanding.
Application:
Clothing, Textile products
Field type:
LF (Low frequency alternating electrical fields), HF (High frequency electromagnetic fields)
Silver Elastic is a compact, full silvered spandex fabric for HF+LF shielding. Typical application to sew articles of clothing. Due to the high elasticity perfect as close-fitting laundry. Actually our best apparel fabric.

Special feature: This fabric is elastic, to sew articles of clothing, please consider the shrink and extensibility rates at the "Technical data".
High screening attenuation, especially at high frequencies!
Contactable (groundable) to shield LF electric fields
Textile similar characteristics: Washable, easy to process. Exception: Do not iron.
Quality grade: Very high
Technical data
Width: 160 cm
Length: Available by the foot
Shrink

 

after first wash: 0 % width, 0 % length
Extensibility: 50 % width, 80 % length
Attenuation: 50 dB
Color: Silver
Raw materials: 80 % spandex, 20 % silver
Weight: 130 g/m²
Surface conductivity: 0.5 ohm / inch (2.54 cm)